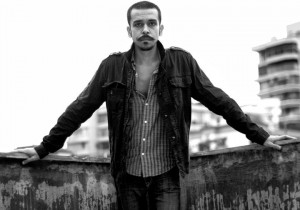 Devashish Makhija
spends his life being driven to manic curiosity about little things (like why is the 'butter-fly' not called, more befittingly, the 'flutter-by'?). To distract himself from such insomnia-inducing questions he writes screenplays, stories, poetry, makes films, does graphic-art, stands on his head each morning, and sings songs to the Bombay pigeons each night. His alter ego resides at
www.nakedindianfakir.com
.
Last modified on 2012-12-20 07:12:16 GMT. 0 comments. Top.
Category: Short Stories
Publisher: Amaryllis
Rights:  World (excluding Indian subcontinent)
These twenty-four stories explore individuals trying, variously, to leave their pasts behind. From identical twin rickshaw drivers wrongly suspected of terrorism in paranoid Mumbai… to a Kolkata merchant who envies each saree he sells for the intimacy it'll share with the woman who buys it… to an illicit love affair over eight potent SMSs… to an astronaut who sings out loud to no one in particular, hoping his sound-waves will find an ear somewhere… to Orissa adivasis, CRPF jawaans, Naxalites, policemen and journalists caught in a web of violence unleashed on them by both – their own histories, and that of a nation helplessly repeating it.