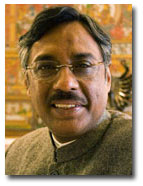 Pavan K Varma is a writer-diplomat and was conferred the Druk Thuksey, while serving as India's ambassador to Bhutan. He has authored over a dozen books, including The Great Indian Middle Class, Maximize Your Life, Krishna: The Playful Divine, Being Indian: The Truth About Why the 21st Century Will Be India's, Becoming Indian: The Unfinished Revolution of Culture and Identity, Chanakya's New Manifesto to Resolve the Crisis within India and The New Indian Middle Class. He is the Advisor (Culture) to the Chief Minister of Bihar, with the rank of Cabinet Minister. He is working on a  book Shankracharya: The Audacity of Thought.  
Last modified on 2015-09-27 23:33:12 GMT. 0 comments. Top.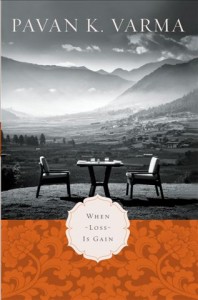 Category: Fiction
Publisher: Rupa Publications India
Set in contemporary India and in the Himalayan kingdom of Bhutan, When Loss Is Gain, is a powerful story dealing with life and death, loss and gain, happiness and fulfilment, the physical and the spiritual, the rational and the inexplicable, and the perennial dialogue between dukkha or sorrow, the key word in Buddhism, and ananda or joy, which animates most of Hindu philosophy.
Last modified on 2015-09-26 00:32:06 GMT. 0 comments. Top.
Category: Non-fiction
Publisher: Penguin Random House India
Publisher (Marathi): Ameya Prakashan
Publisher (Punjabi): Unistar Books
Publisher (Tamil): New Horizon Media
Rights: Indian language rights available (excluding translation rights for Marathi, Punjabi, Tamil)
In this book, Pavan Varma looks at the consequence of Empire on the Indian psyche. Drawing upon modern Indian history, contemporary events as well as personal experience, he examines how and why the legacies of colonialism persist in our everyday life, affecting our language, politics, creative expression and self-image. For all our bravado as an emerging superpower, we remain unnaturally sensitive to both criticism and praise from the Anglo-Saxon world and hunger for its approval. With passion, insight and Impeccable logic, Pavan Varma shows why India, and other formerly subject nations, can never truly be free – and certainly not in any position to assume global leadership – unless they reclaim their cultural identity.
Last modified on 2017-08-01 05:45:12 GMT. 0 comments. Top.
Category: Non-Fiction
Publisher: Westland  (forthcoming)
The book presents, possibly for the first time, the essence of Shankarachary's Advaita philosophy in a readable style comprehensible to the ordinary reader not familiar with esoteric philosophical concepts. It outlines his times and the remarkable evolution of Hindu thought that preceded him, starting with the Rig Veda, the Upanishads, the other five systems of Hindu philosophy, and the materialist Charvaka and Tantric schools. The book will demonstrate that every tenet enunciated by Shankaracharya validates the findings of modern science today. Pavan K. Varma attempts to prove that science has understood its limitations, and that it was an Indian who could give an unambiguous philosophical framework that more than a millennium ago explicated, and even postulated, what science is discovering today.