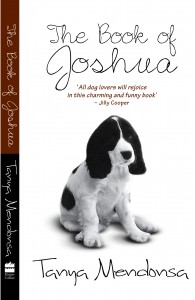 Category: Doggy Memoir
Publisher: HarperCollins Publishers India
Publisher (Portuguese): Novo Concieto (forthcoming)
Rights:  World rights available (excluding Indian subcontinent, translation rights for Portuguese)
This book is like having the best of good times with old friends, except that in this case, many of those friends are four-legged. A joyous romp through Paris and the south of France, meeting a host of characters with the footloose author leads to India, where she finally finds her dream-dog, an irresistible cocker spaniel named Joshua.
With many other animals, coasting from crisis to partying with identical zest, they travel from the colonial city of Bangalore to the sun-splashed beaches of Goa to arrive in the Blue Mountains of the Nilgiris.
If you've ever laughed with Gerald Durrell or cried over Black Beauty or simply love animals, this is for you – a dog and a mistress you'll never forget.