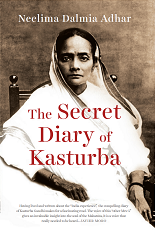 Category
: Fiction
Publisher
: Westland Books
This is the story of Kasturba Gandhi, a woman who walked faithfully in the shadow of her husband Mohandas Karamchand Gandhi, whom the world venerates as a Mahatma. With him she spent sixty-two years of her life, juggling the roles of a passionate woman, a devoted wife, a sacrificing mother and an emerging feminine shakti, who got buried in the tombs of the unsung leaders of her time.
Scripted in the voice of this enigmatic, firebrand iconoclast, the narrative compels you on a journey laden with both pleasure and pain, as she lets you delve into the pages of her candid, undisclosed memoirs.
A complex unraveling of the most vital persons who shaped her life, her journey is at once brutal, candid and startling as she peels away layer after layer to expose the complexities of the core beneath. A tale of love, attachment, sex, passion, melancholy, ecstasy and ultimate liberation; hers is a voice that needs to be heard.