Tanya Mendonsa is a poet and a painter and in her poems she draws deeply from a poetic tradition of the wonders of the natural world, which illuminate her first book, The Dreaming House. Her second book of poems is All The Answer I Shall Ever Get. Her poems have also been anthologized in the US and in India. The Book of Joshua, a doggy memoir is her first work of non-fiction.
Last modified on 2019-10-11 12:08:00 GMT. 0 comments. Top.
Category: Doggy Memoir
Publisher: HarperCollins Publishers India
Publisher (Portuguese): Novo Concieto (forthcoming)
Rights:  World rights available (excluding Indian subcontinent, translation rights for Portuguese)
All dog lovers will rejoice in this charming and funny book' -Jilly Cooper.
Two world travellers meet at a party and realize, as they spend the evening in each other's company, that they are meant to be together. Enter Joshua, an irresistible cocker spaniel, and the couple's life is transformed forever.
The Book of Joshua is a joyous romp through Paris and the South of France and from the colonial city of Bangalore to the sun-splashed beaches of Goa and the blue mountains of the Nilgiris as the irrepressible pair of humans and their pack of four-legged friends coast from crises to parties and from disasters to miracles. If you've ever laughed with Gerald Durrell or cried over Black Beauty, or simply love animals, this book is for you – a dog and a mistress you'll never forget.
Last modified on 2018-03-22 12:43:17 GMT. 0 comments. Top.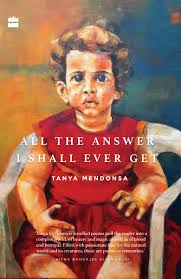 Category: Poetry
Publisher: HarperCollins Publishers India
All the Answer I Shall Ever Get, Tanya Mendonsa's second collection of poems, split into two sections, is an exploration and a meditation on two eternal themes: love and friendship and the power of the past.
In these poems are to be found passionate longing and profound loss, but this is no ordinary homage to those most celebrated of human feelings. Bodies and souls mingle here, sometimes in gentle ways, but not always. Everyday boundaries – between reality and fantasy, the self and the other, the sensual and the sinister – are erased. The ordinary becomes extraordinary.
When the poet walks down memory lane, she does not always stick to the straight and narrow. The lay of the land seems familiar, but look closely, and the cracks are there. These poems are inspired by individuals who have been part of the poet's life, some of them fleetingly.
Mendonsa's directness and simplicity is, by turns, intimate, terrifying, uplifting and, ultimately, liberating. These poems open our eyes to a world seen anew with a lyricism that never ceases to astonish and delight.